Marketing in the present has changed a lot from when we entirely depended on the traditional forms of marketing like advertisements in newspapers and magazines, on TV, and putting up banners and flexes. Yes, the market has switched from traditional ways to digital media.
Long gone are the days when people have to engage themselves with a lot of outdoor activities and convince a whole lot of authorities to get their advertisements run. Now we only need to set up a website and go through it step-by-step online to optimize it well.
SEO techniques has simplified things all the while since it emerged. Search Engine Optimization or SEO is defined as the process of optimizing one's website and its pages according to what Google demands of a website, thus ensuring that the rank of the website is above its competitors. It is an organic process of ranking a website, which is a lot less expensive and much less troublesome when compared to the other marketing ventures.
What is an SEO Audit?
An SEO audit tool is a process that has a goal of assessing a company's SEO strategy. To perform this one needs to have a decent amount of knowledge about SEO and how it works. This audit is primarily done by a person with the help of some SEO related tools. Free tools like SEO checker works pretty well for the basic SEO audits done by an individual or a company. It aids them in gauging the overall SEO health of a page on a particular website.
What are the types of SEO Audits?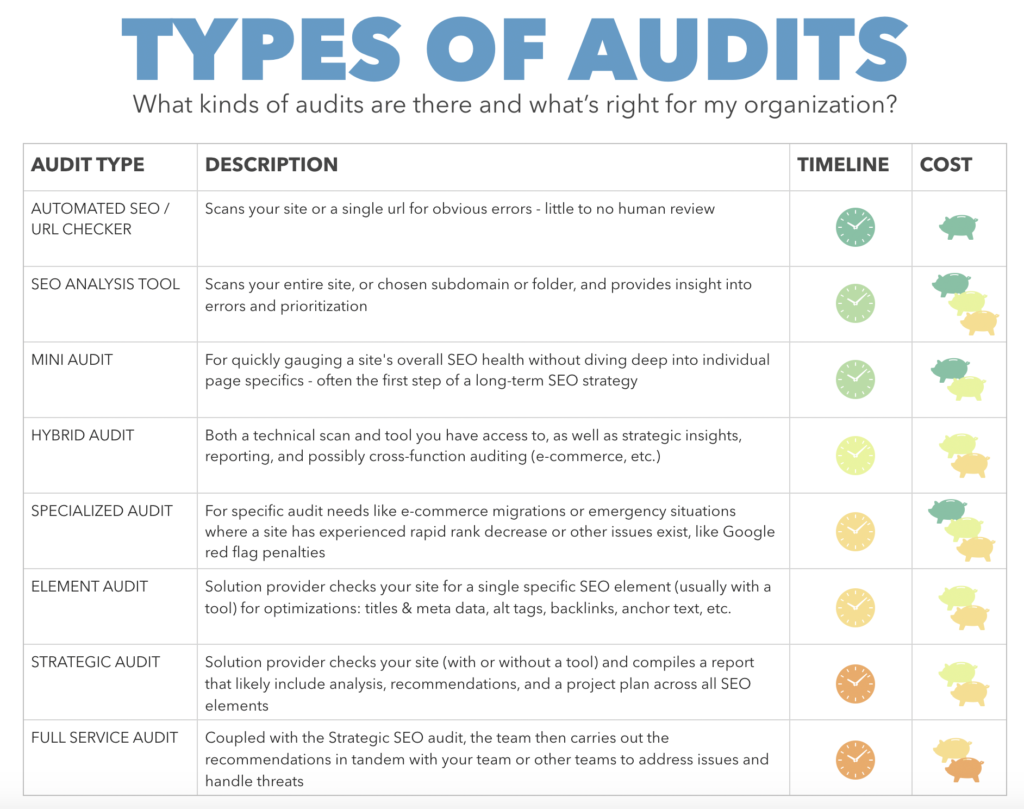 If you are wondering how many types of SEO audits can be possible, then your answer is here.
Technical audit
The first you might be asking here is what is a technical audit? Then, you need to know that a technical audit is such a process of SEO audit that assesses your website from a technical point of view. This kind of audit involves searching for duplicate content on the website, determining plagiarized content, and assessing broken links that direct users to 404 error pages. Technical audits are one of the standard SEO audits for any website. When it comes to SEO audits, technical audits are the standard.
Competitive audit
When you hear a competitive audit, keep in mind that it is a process of website analysis where a particular website is audited along with the analysis of the SEO plan and the strategies used by the competitor website. In this report, you would receive a comparison chart or scorecard that will highlight the strengths and weaknesses of your website. It can show you how to improve your website and make it better than your opponents.
How much should an SEO audit cost?
The cost of SEO audits varies greatly from company to company due to numerous reasons and there is no standard cost that is to be applied. However, we can analyze the costs from some of the competing companies to assume a price that we can hold as a standard price at a particular time. However, it is always important to know that there are a whole lot of factors on which the SEO pricing depends. Some of the main parameters that determine the cost of SEO audits are given in the upcoming section below:
Tools
Most of the business of today works with the help of online tools. These tools either come free or expensive, where some might be reasonably priced whereas those that are in demand are priced higher. Therefore, if your audit is to be done very accurately with premium tools, then you need to spend a bit more than your peers.
Marketing Company
If your marketing company is reputed due to their class-apart service where experienced professionals work devoting their precious time to bring about priceless improvement for their clients, then it is obvious that their charges would be a lot more than any other freelance or perhaps a startup company that has opened their office a couple of years ago.
Time Taken
If the work needs to be done is more, then your audit would take more time and the expenses would rise along with that because money is directly proportional to time.
Lastly, you also need to be aware of what audit you need to go for. Whether it will be a technical audit, a competitive audit, a content audit, a link audit, a social audit, or all of them, plays an important role in determining the price.